Phillip Van Nostrand sure does get around! The New York City-based photographer from Santa Barbara, currently shooting a wedding in Colombia (while also editing nuptials he covered a few weeks prior in the Caribbean on teeny tiny Statia Island) gets to travel to places most of us only dream of. Lucky for us, we get to live vicariously through Van Nostrand and his vibrant, energetic images from farflung locations. 
"I've been shooting weddings for about eight years now, and I feel like I've seen it all," says Van Nostrand. "I've photographed weddings all over the world—on islands, in parks, in private clubs and in campgrounds, in an abandoned Dutch chapel with no roof. My philosophy and approach is this: I want to make sure the entire day is smooth and comfortable for the bride and groom. I never impose my will on them without asking. I am constantly checking in to make sure they are happy and things are going well. I consider my role on their day as cheerleader, coach, therapist, helper (I've tied a bride's bow more than once, and many a groom's bow tie), time-keeper, mom-charmer, and of course, photographer. And I treat all of those roles with equal importance. I cringe when I hear about photographers who seem to forget that the most important part of the day is NOT the photographs, but the couple's happiness."
Here, he shares the wedding of Miguel and Macarena. Van Nostrand says he met the bride in the jungles of Colombia, during her travels with two of her girlfriends. "They adopted me as their travel companion for about 24 hours and I made them feel like models on the beach," he describes. "After that day we stayed in touch on Facebook and Whatsapp, and she asked me to attend her wedding as a guest that upcoming December. I convinced her to fly me out and host me for a week to photograph ceremonies in Buenos Aires. I was the only American there!"
One strange thing that occurred, says Van Nostrand, was that the groom's family had hired some other photographers, and he and the bride didn't know or realize it. "I was shooting alongside some random other photographers during the big wedding," he says. "I stayed out of their way, because I figured they were family friends or something. It was strange to co-shoot a wedding, and I felt like I was the main photographer (I had just spent the entire week with the bride and groom and their whole family photographing the civil ceremony), but sharing space with someone else, well, I just treated them like they were videographers, and made sure I wasn't in their shots and hoped that they would do the same. There was something like 400+ guests at the big wedding, so it was easy to be in different areas at the same time. And I speak a decent amount of Spanish so that wasn't a challenge. Everything else could be mimed!"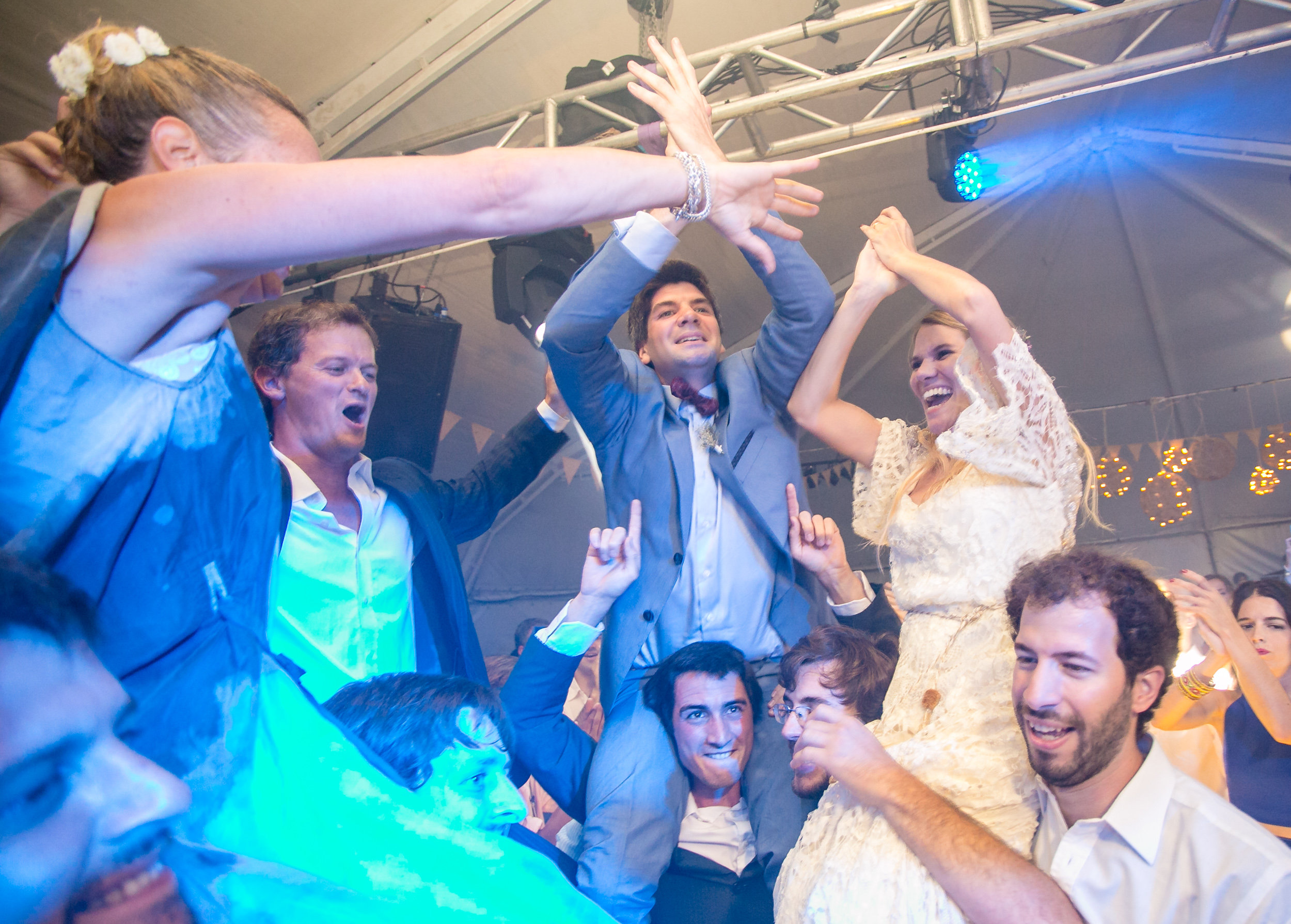 "It was a beautiful experience," Van Nostrand, says, adding that the most memorable photographic moments were "the silhouette of the polo horses in dust at the end of the day, the groom's beautiful nieces looking like little angels, the bride at the window of their mansion that they stayed in the night before the big day, the bride and groom in front of the 100-year-old welcome house that has been on the family property for years, and the night stars over the polo field on the family ranch."

WEDDING-DAY GEAR
Camera: Canon 5D Mark III
Lenses: Canon fisheye 15mm f/2.8, Canon 17-40mm f/4 L, Canon 50mm f/1.4 USM, Canon 135mm f/2.0 L
Check out more Weddings of the Week, and email Libby Peterson or Jacqueline Tobin with submissions.